Pomeranians are known to be happy, joyful, and bouncy little dogs, even when there's not much going on around them. However, building a better bond with them involves a little work on our part as Pomeranian parents, so being able to take part in their joy is a feeling like no other.
Sometimes you'll be stuck indoors or simply won't want to go outside. Trust me, your Pomeranian probably feels the same way! Of course, there are also times when the weather is just right and having an outdoor play date feels perfect. Whether you plan on staying in or adventuring outside, there are a bunch of activities you and your Pomeranian can do!
Neither you nor your Pomeranian should be bored around each other, so having some ideas for fun activities can go a long way. When you take an active role in making sure your Pomeranian's having a good time, you can ensure that they get a good amount of exercise, mental stimulation, healthy food, and proper rest, all the while building a better bond with them.
So what are some fun indoor and outdoor activities you can enjoy with your Pomeranian?
Fun Indoor Activities
There are just some days when you're feeling like a homebody or simply the weather is just not being friendly. Luckily, there are some super fun indoor activities you and your Pomeranian can partake in!
1. Hide and Go Seek with Treats
Who doesn't like a good treat every now and then? One of the more fun indoor activities you can share with your Pomeranian is the game hide and seek with treats around the house. Just by placing some delicious snacks in several secret places, you can get your Pomeranian on the move to find exactly where each one is.
Whenever I play this game, I try not to make it too difficult for them and usually walk them somewhat near the hidden locations. However, Pomeranians are smart dogs, so it won't take too long until they find them all!
2. Doggie Play Date
Does your Pomeranian have a few friends in your neighborhood? A super fun indoor activity for your Pomeranian is to set up a playdate with their friends! Whether you go to someone else's house or invite them over to play at yours, your Pomeranian is sure to have a blast.
I absolutely love this activity because it gives my Pomeranians the opportunity to socialize with their friends. Not only that, but it's fun for me to get to know other dog parents and the dogs themselves. Go ahead and set up a playdate. You'll love it!
3. Learn Some New Tricks
Pomeranians are rather intelligent dogs and can pick up on commands and tricks quite fast. If you and your Pomeranian are down for the challenge, I highly suggest you try to teach your little guy or gal some new tricks.
A great way to teach a Pomeranian new tricks is to incentivize them to carry out the trick using a treat as a reward. It's quite remarkable how effective this can be, and you'll soon realize how many tricks they'll have under their belt. The best part is they get to expand on their knowledge, become more obedient, and can show off the next time you're around friends and family!
4. Tug of War
I don't think I know a single dog, especially a Pomeranian, that doesn't like playing tug of war. Whether you're playing with a sock, stick, or a proper tug of war dog rope, you'll be able to keep your Pomeranian entertained for a while with this fun indoor activity. My Pomeranians get a big kick out of the Pacific Pups Products Dog Rope Toy (link to read reviews on Amazon)!
When my Pomeranians were just puppies, they absolutely loved taking my socks off whenever I'd sit down on the couch. They don't do it much anymore and now only they'd rather play with their rope, but it just goes to show that they love to play tug of war at any age.
5. Hallway Fetch
I think one of the most common and fun indoor activities to enjoy with your Pomeranian is playing hallway fetch. This has got to be some universal activity that everyone plays with their dogs when indoors, which tells us a lot about this activity.
I'm a big fan of this activity because it keeps my Pomeranians very focused, they get great exercise, and the ball can only go in so many directions. The funniest part is if you have hardwood floors or another similar slick type of flooring, they're going to slide everywhere! But be careful they don't slide to hard into your furniture or a wall.
6. Staircase Fetch
Have you ever dropped a ball down the stairs followed by your Pomeranian blasting down the stairs to go grab it? This has got to be one of the cutest things I've ever seen and definitely counts as a fun indoor activity for Pomeranians.
I've also heard of Pomeranian parents throwing the ball up the stairs and having their Pomeranians chase it up then down. I tried this out but found that my Pomeranians get tired really fast. Even when I roll the ball down the stairs, it doesn't take too long for them to get tuckered out and not make it back up. This is definitely a great indoor activity to get your Pomeranian some good exercise!
7. Dog Food Puzzle Toys
We all know that Pomeranians are very intelligent dogs, so it's a good idea to keep their minds active when cooped up inside. An absolutely fun activity for your Pomeranian is to feed them dry dog food using a dog food puzzle toy, like the Pupper Pamper Interactive Dog Food Puzzle Toy (link to read reviews on Amazon).
These sorts of toys will surely keep your Pomeranian active and engaged for quite a while. Whenever I put these sorts of toys out for them to play with, they're 100% enthralled and cannot be bothered. It's like they become hypnotized! Actually, it's also a great way to keep them busy if you need a little time to rest.
8. Baking Doggie Treats
Who doesn't like a little baking when relaxing at home? Well, Pomeranians are no different in this regard and will no doubt appreciate some tasty homecooked treats to keep their stomachs at bay.
Personally, I like to bake my Pomeranians organic cookies and biscuits using the cookbook Organic Dog Biscuit Cookbook: Over 100 Tail-Wagging Treats (link to read reviews on Amazon). There are literally over 100 different cooking recipes to try out and they're all super healthy and organic for your Pomeranian. Not a bad way to bond with your Pomeranian when hanging out at home.
9. Obstacle Course Challenge
Remember what it was like when you were a kid and you made pillow forts and pathways? Setting up something just like that for your Pomeranian can be a fun indoor activity that gets their juices flowing. It really takes no time at all and can be fun for everyone!
One of the ways I like to get them through one of these obstacle courses is by putting some tasty food at the end. That way they can use their nose to find the right way and get a nice little reward for their effort.
10. Bite Some Bacon Bubbles
We've probably all seen when kids or anyone else are playing with soapy bubbles and our Pomeranians start chomping away at them. While it's a lot of fun for everyone, it's actually not the healthiest activity to partake in unless the bubbles are non-toxic.
Enter the Bubbletastic Bacon Bubble Machine (link to read reviews on Amazon)! It won't take much effort to convince you just how fun this toy is for my Pomeranians, and I'm sure your's will absolutely love it! The best part is the bubbles are non-toxic, so they can be entertained for a very long time without worrying about them getting sick!
11. Just Netflix and Chill
One of the biggest joys in life is just to kick back, relax, and watch a good movie. Having a simple movie watching bonding session with your Pomeranian is a great way to pass the time and enjoy each other's company.
This is a great excuse to give your Pomeranian a little lap time and just to pet them while you relax. Better yet, bust out that doggie brush and give them a quick detangling session.
Fun Outdoor Activities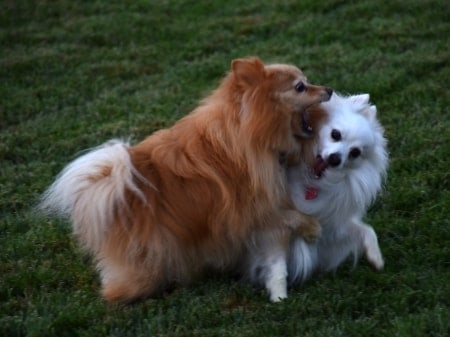 When the time and weather is ripe for outdoor activities with your Pomeranian, you definitely want to take advantage of these opportunities to bond with your Pomeranian. Going outside and enjoying the nice weather is both physically and mentally healthy, so there's no reason not to!
12. Go for a Walk
Probably the most obvious and easy to do fun outdoor activity to do with your Pomeranian is to go on a walk. Not only is it a great way to get exercise, but it gives your Pomeranian the chance to explore their surroundings and get to know the lay of the land.
Whenever I take my Pomeranians on a walk, they're more eager than any other dog breed I've ever owned. On top of that, they always pull as hard as they can on their leash, so I ended up getting them an Embark No-Pull Adventure Harness (link to read reviews on Amazon), which is great for their windpipe since it reduces the potential onset of a collapsed trachea, or at least alleviate any discomfort.
13. Dog Park Social Hour
Getting a little social time with other dogs is a great way to get your Pomeranian bouncing and moving. Taking your Pomeranian to a dog park is great because they not only get to practice their social skills with other dogs, but they also get to run around without a leash.
Honestly, I think going to a dog park with your Pomeranian is one of the best outdoor activities you can do with your Pomeranian. The bonding time you'll have with them and the joy they'll have with everyone around them is hard to replicate as strongly as an activity like this.
14. Play Fetch in the Park
If your Pomeranian is as active as some of mine and they're in relatively good shape, there's nothing like a good old fashion game of fetch at your local park. I don't need to tell you how good this is for their health, so we'll leave it at that!
Some things to consider when playing fetch with your Pomeranian include making sure you don't throw it too far, due to their short legs, and to keep an eye out if there are other dogs around they might get into a barking match with. Most likely your Pomeranian will get tuckered out pretty fast (like mine!), so it's also good to keep some water with you for them to drink.
15. Doggie Paddle Practice
Going out for a swim and practicing doggie paddling can be a fun outdoor activity for your Pomeranian if they're natural-born swimmers. To be honest, I don't know a lot of Pomeranians that are big into swimming, but every so often I see some jumping around in our local lake.
If you decide to take your Pomeranian for a swim, be sure to keep an eye on them. Just in case, you should get your Pomeranian a dog flotation vest, just like the Ruffwear Float Coat Life Jacket (link to read reviews on Amazon), so there aren't any unfortunate mishaps. This is probably something you don't want to go cheap on as well.
16. Bring Your Indoor Games Outside
Just because you and your Pomeranian outside doesn't mean you can't get into some of the activities you did indoors. Playing a bit of tug of war, bubble chasing, and trick learning outside can be a lot of fun when enjoying the nice weather.
I mentioned this before, but the Bubbletastic Bacon Bubble Machine (link to read reviews on Amazon) is just a blast for Pomeranians and a super fun activity for them to share with other dogs. There's absolutely no room for boredom with this toy, and I cannot recommend it enough as fun activity for your Pomeranian. Get it and you will not regret it!
17. Grab a Bite to Eat
Whether your grabbing breakfast, brunch, lunch, or dinner, going out for a bite to eat with your Pomeranian can be a fun outdoor activity you both can share. How you get there is another way to spend time with your Pomeranian, whether it's by walking or with your car.
If I know my family and I are going to eat at a place that lets us sit outside, I definitely plan on bringing my Pomeranians. Some of the restaurants and cafes we go to are even dog-friendly, so we can even take them inside if there's no outdoor seating.
18. Start a Fashion Photo Shoot
When you're out and about with your Pomeranian, you definitely want to get some cute photos to share with your friends and family! Your Pomeranian is probably going to have a blast if they're enjoying the outdoors, so taking photos to keep these memories can be priceless.
If you decide to snap a few photos of your Pomeranian while you're enjoying this outdoor activity, consider getting your Pomeranian some cute little outfits. Playing dress up can be a lot of fun and is often a nice conversation starter with other dog lovers!
19. Work in the Garden
Getting a little work done in the garden can be good exercise and an extremely therapeutic outdoor activity, so why not share it with your Pomeranian? They'll most likely be running around chasing squirrels or barking at birds, but at least you'll be able to spend time with one another.
If you let your Pomeranian roam around your garden, be sure they don't eat any food that's potentially dangerous for them. As a matter of fact, there are a number of human foods that your Pomeranian should avoid, some of which can certainly be grown in backyard garden.
20. Take a Bike Ride
Dust off that bicycle helmet and hit the road! My family and I are big into bike rides, whether it's on the side of the road or on our local park trails. It's always a super fun time and really gets the juices flowing!
If you want to share the joys of riding your bike with your Pomeranian, I definitely encourage you to take a look at the Burley Tail Wagon (link to read reviews on Amazon). It's a super safe bike trailer for dogs and will fit all of your needs when going on a fun bicycle ride.